The common bathroom – popularly referred to as the guest bathroom or powder room – is a vital space in every household. A neat and clean powder room, that is well-maintained and brightly-lit, creates an everlasting impression on guests and gives you brownie points for hospitality. Spruce up your powder room with these easy-to-implement bathroom lighting ideas to keep your guests spellbound and leave you beaming with pride.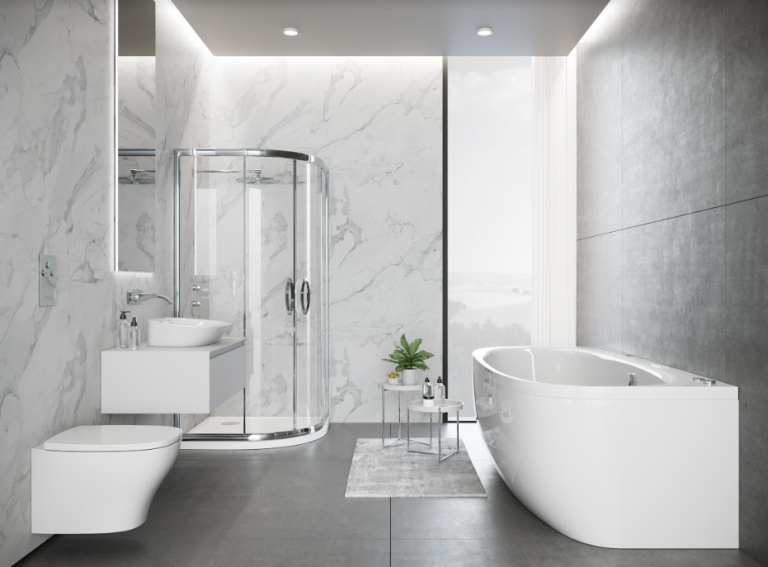 Opt for symmetrical lighting
Good lighting either makes or breaks the aura of a space. While sprucing up your powder room with modern bathroom lighting ideas, make sure you give top-notch importance to symmetry. Light up the mirror above the wash basin with a pair of symmetrical lights placed at an equal distance at both sides. Symmetrical bathroom light fixtures highlight both the sides of the face for even illumination. However, this rule is not restricted to the light fixtures near the mirror alone. Install symmetrical lights on the opposite walls of the room to light up the space with a subtle and even glow.
Always start from the ceiling
One of the best bathroom lighting ideas is to start from the ceiling while browsing through lighting fixtures to install in your powder room. Decide if you want to have a single statement piece like a majestic chandelier or opt for two symmetrical lights on either sides of the ceiling. If you have a small bathroom, a single ceiling light fixed at the center of the ceiling will suffice. On the other hand, if your powder room is big with a well-defined toilet and shower area, opting for symmetrical ceiling lights to illuminate the desired areas is a good idea.
Add layers to your lighting
Nothing dramatizes a place better than dreamy layers of light that strike the right chord between functionality and aesthetics. Bathroom lighting ideas have come a long way than typical ceiling lights and wall fixtures. Think outside the box and opt for lighting solutions for every need of the user. For example, it is a great option to fix a light just above the basin mirror to accentuate your facial features while applying make-up. You can also install state-of-the-art wall lights mounted at the base of the wall to add an illusion of depth. Layered lighting is the most aesthetically pleasing method to light up a room.
Avoid direct lights
Treating your guests with a spotlight is not a great approach when it comes to modern bathroom lighting ideas. Not only does direct light create an unpleasant reflection in the mirror, it also falls harshly on the eyes which is never a good feeling. Instead, transform your bathroom into a wellness zone with warm and soft lights that illuminate the space and uplift the spirits of the visitor. Opt for recess lighting that is subtle and ambient at the same time. You can also consider cove lighting along the edges of the ceiling to give just the right amount of illumination without the harsh effects of direct lights.
Keep it simple
Being over the top might be a good bathroom décor style, but when it comes to bathroom lighting ideas, it is best to keep it simple. Focus of keeping your space spotlessly clean, neat and dry and let good lighting complement the big picture of a tidy and hygienic bathroom. You can increase the luxury quotient by installing a shower enclosure that does not hamper the flow of light and keeps the toilet area dry at the same time. Select fixtures for your bathroom that give a clear cut finish. You can also consider investing in various smart bathroom technologies to get the best of convenience and luxury.
When it comes to bathroom lighting ideas there is no one-size-fits-all formula. However, these tips will guide you to make the right choice and effortlessly light up your bathroom. But good lighting can be made great with quintessential bathroom fixtures that spell out glamour and luxury. Head out to Jaquar today and upgrade your living. You can also check out our blog on bathroom colour schemes to take inspiration from for more insights.