While there are hundreds of different lighting fixtures for you to choose from while selecting your store's showroom light design, we have broken them down into 10 main types, based on their fitting, application and purpose.
Probably the most common type of retail lights, downlights are also called recessed lights as they are installed into the recesses of the ceiling and cast a concentrated light downwards. These lights can provide both, ambient as well as task lighting, depending on the brightness and work excellently on low ceilings. They also distribute light uniformly with minimal shadows and are affordable to buy and install, making them an excellent choice for your retail store lighting.
Panel lights cast a wider beam of light, providing the room with ample ambient light without any shadows. These lights are extremely comfortable to look at and are perfect in rooms with high ceilings. Because of their simplistic designs, they work excellently with a minimal aesthetic or for electronics' showroom light design as the lights don't draw too much attention to themselves.
3. Track Lights
Track lights for showrooms are some of the best options for retail purposes, regardless of what your store sells as they are completely multidirectional, giving you the flexibility to shine light on whatever and wherever you like. While track lights for showrooms mainly provide accent and task lighting, when placed in multiples across your space, they can also create a vibrant ambient lighting.
Want to know more about track lights? Check out the below video on Jaquar's Magnetic lights- the best retail lighting solution for your store!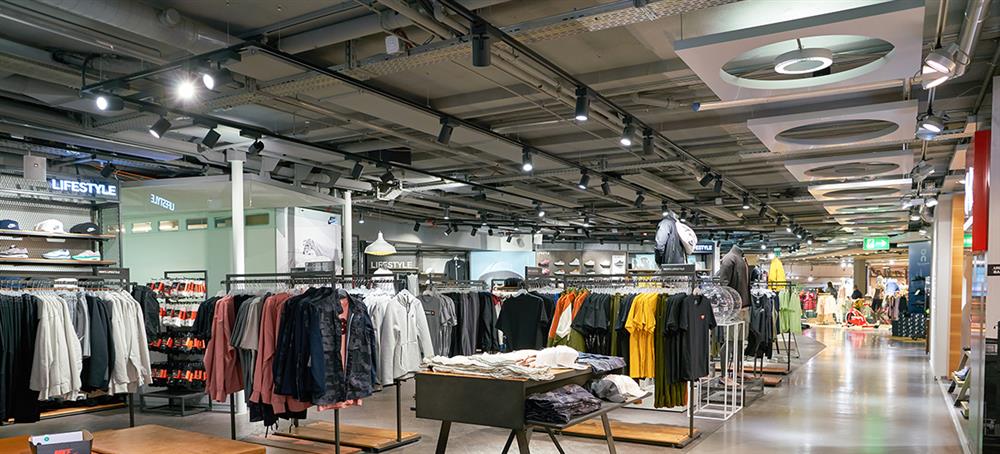 While sometimes similar to downlights in appearance, spot lights are fixed directly onto a wall or ceiling and can provide multiple beams of light onto an area or product. Spot lights are used to accentuate a product/ area and hence provide accent or task lighting for showroom. Tiny spotlights can also be installed in shelves to emphasise small products like accessories, cosmetics, gadgets and electronics, etc.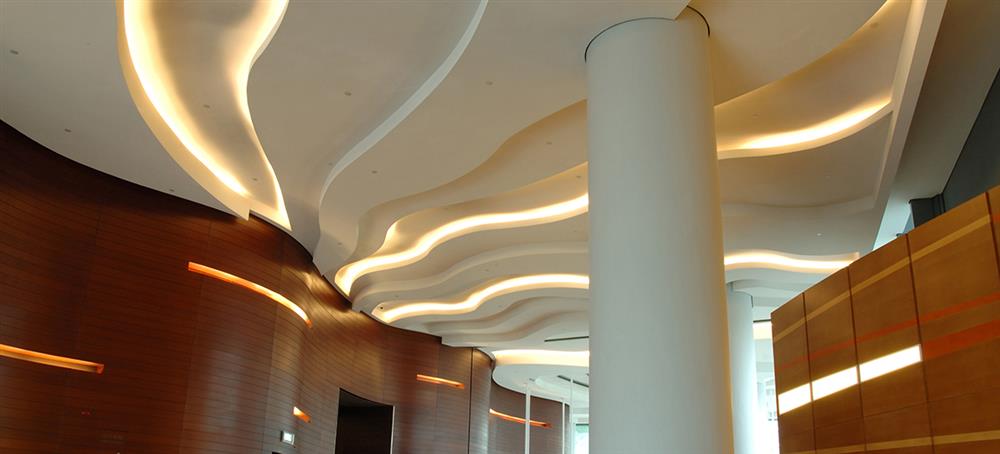 LED strip lights are the perfect addition to add more accent lighting to your space as they can subtly highlight architectural features in your store and even highlight products on shelves when placed underneath shelves for a dramatic effect. They are perfect for showroom lighting as they draw attention in a subtle manner.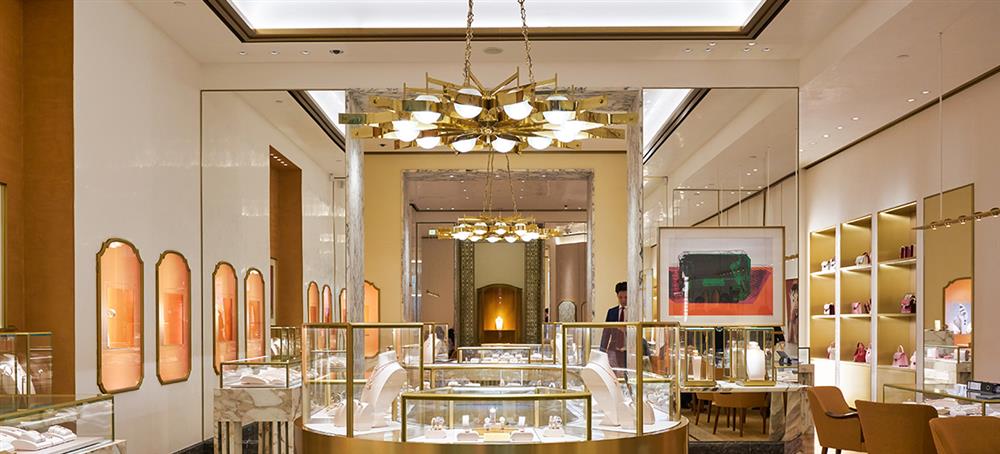 Chandeliers are an excellent way to bring a sense of grandeur to your store while creating a focus point around your entire store. Chandeliers come in a variety of different styles, so you can find one that matches perfectly with your store vibe and aesthetic. They cast a wide beam of light across a large area and they make excellent showroom lighting ideas if you have high ceilings and a relatively large store area. Choosing the right chandelier can be an overwhelming process but once you get it right, it can change your entire showroom lighting.
Pendant lights are some of the best lights for showrooms because they produce task, accent and decorative lighting and are ideal for small spaces. Pendant lights come in a plethora of designs, giving you thousands of options to choose from based on your style needs. It is important to note that pendant lights do not require bright light bulbs as they are suspended close to the ground and may hurt the eyes of people in the store.
8. Surface Mounted Lights
If your retail space is too small to opt for a suspended chandelier but you're still looking for a decorative lighting fixture, then surface-mounted lights may be the best choice for you. These types of lights are mounted onto the ceiling, making them low profile and are usually available in a vast variety of designs to choose from.
9. Adjustable Lights
Adjustable lights are an absolute necessity for showrooms because the direction of light can be adjusted in any direction and the light source is precise, providing both, task and accent lighting. Unlike track lighting, the position of the light cannot be changed but the adjustability gives great flexibility in emphasising an area of choice without spending too much money.
10. LED Backlit Posters
LED backlit posters/boards are a great way for retail stores to advertise their products or emphasise an area by placing LED lights behind the board to further amplify and brighten it up. While these are definitely not a primary source of light, they add a great touch to your room. They draw your customer's eyes to the board and are an energy-efficient way to advertise.
Once you choose your fixtures for your interior retail lighting, it's time to decide the bulb brightness, tone and bulb type. Lighting is always measured in two ways- based on their brightness and their tone and these two factors along with energy efficiency vary for different types of bulbs. Let's discuss these three elements in detail to help you create an effective lighting design for shop.
Brightness
Brightness of your lights is measured in lumens- a measure of the total amount of visible light that's emitted by a light source per unit of time. Watts used to be an indicator of brightness and correlates the efficiency of the bulb to the brightness level. However, this doesn't work as there are several highly efficient bulbs (low watts) like halogen and LED that produce bright light.
The brightness of your bulbs plays an important role in setting the ambiance of your space, and can way depending on the type of retail store. For example, the bulbs of a spa need to be dim and subtle, to set the mood of relaxation from the moment the customer walks in.
Tone
Tone here in terms of lighting refers to the colour temperature of your light bulbs. The tone is measured through kelvin- higher the kelvin, cooler the light is. It also plays a vital role in setting the ambience of your store and the colour temperature can even change the appearance of your product. For example, a pharmacy or hardware store may require cool-toned lights to maximise visibility and make the space appear clean. But when opting for clothing store lighting ideas, you may opt for warmer lights as they are more flattering on customers who are trying on clothing, making them more likely to buy your product.
Bulb Type
Lastly, it's time to choose your bulb type. No one bulb type is best for all types of lighting fixtures but you can achieve any lighting scheme with any type of bulb nowadays. There are 4 main factors to consider while choosing your bulb type- energy efficiency, cost, tone range and type of lighting that the bulb is best suited for. Let's look at the three most common types of bulbs used in lighting for showrooms:
Compact Fluorescent (CFL): These bulbs often mimic incandescent bulbs and can sometimes even fit into incandescent lighting fixtures. They are cost-efficient, last you around 7-10 years and give you around 50-70 lumens per watt. They are available in a full spectrum of colour temperatures and are best for ambient and task lighting.
Halogen Bulbs: These bulbs are a type of incandescent bulbs that utilise halogen gas to increase brightness and operating life. They are probably the most affordable variety but have a short operating life of 1-2 years. They are not the most energy efficient as they only cast between 12-15 lumens per watt. Again, these lights are also available in a full spectrum of colours and they are best for task, accent and decorative lighting but not for ambient lighting.
LED Bulbs: These modern bulbs produce light through light-emitting diodes and are some of the best options for your lighting needs. They tend to cost more than other types of bulbs but they emit 60 lumens per watt, meaning LED lights help save the most energy. The operating life of LED lights varies depending on bulb and brand but could be anywhere between 2 to 8 years. You can find them in a full spectrum of colours and they are suitable for all lighting showroom display ideas.