When you think about technology in the home you might consider smart TVs in the living room, perhaps a super cool 3-door refrigerator with a Wi-Fi LCD screen in the dining room or a hi-tech washing machine with inverter direct drive technology in the kitchen – but what about the bathroom? With the bathroom turning as a place to relax and unwind, it's becoming ever more important for technology to help us turn this room from a place of necessity to one of calm and convenience. If there is a gadget that fits that description, it's the heat pump.
What is a Heat Pump?
It's the hot new option to traditional water heaters. The heat pump is an energy-efficient, eco-friendly, low maintenance, durable new water heating solution that beats all other water heating technologies by a mile. Check out the recently launched Jaquar Integra Heat Pump Water Heaters. It is probably the simplest and most modern solution to cut your electricity bills to a fourth, while ensuring almost a perennial supply of hot water to all your bathrooms, even if it's a large home.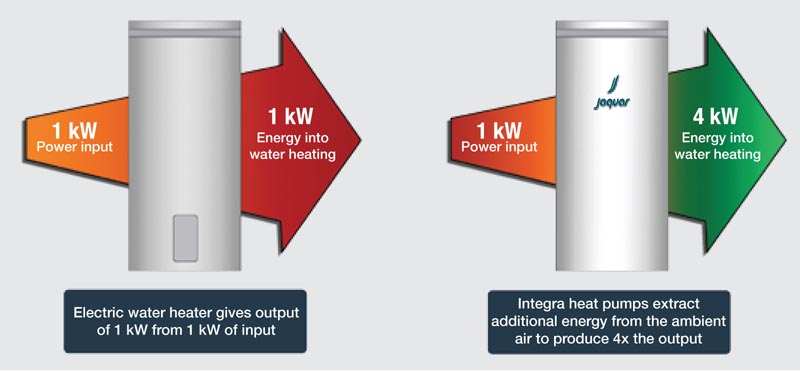 The Technology:
The heat pump is an electrical device that transfers heat from air to water. It does so by capturing the energy from the ambient air to give it back to the heat pump water tank. It uses an intelligent water heating technology that provides water at the ideal temperature in the bathrooms even during bitter winter season. Since it uses electricity to move heat from one place to another, instead of generating heat, the electric consumption is much lower, just one fourth compared to other water heating devices; and so is the operating cost.
Operating Cost As Compared To Other Heating Options: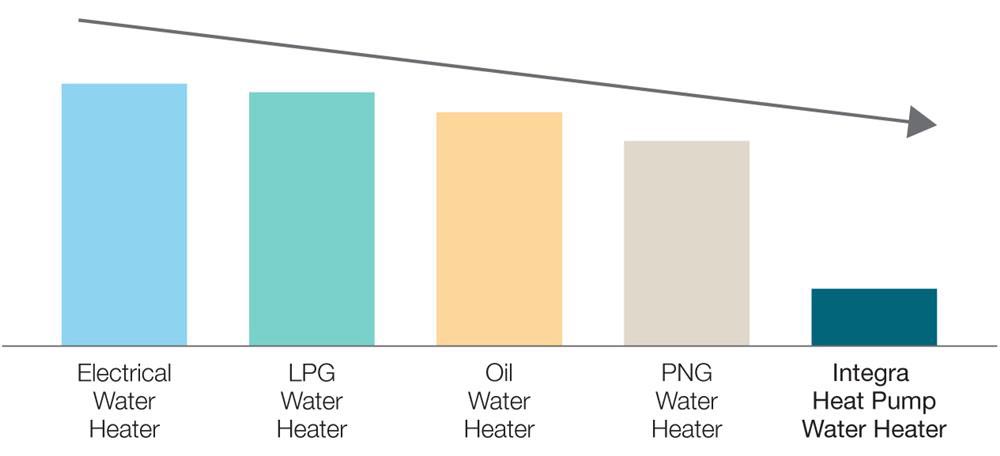 How it Works:
Heat pump water heater transfers heat by circulating refrigerant through a cycle of evaporation and condensation. A compressor pumps the refrigerant between two heat exchanger coils. In one coil, the refrigerant with low temperature and pressure absorbs heat from its surrounding air and in the second coil, the refrigerant with high temperature and pressure transfers heat to water.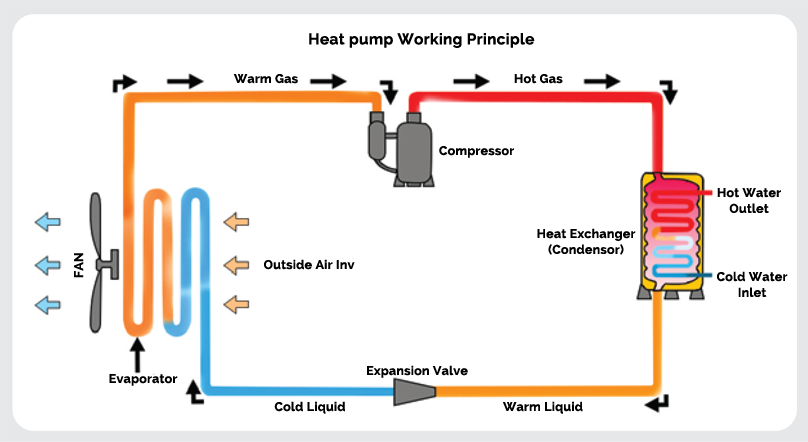 Advanced Features of Jaquar Heat Pumps:
The Jaquar heat pumps come with a host of features such as corded remote and LCD Digital display ON/OFF Timer. It enables the unit to switch on/off automatically. They come in different capacities – 200 L, 300L, 400L and 500L.
Additional Heating Elements:
They have additional heating elements in all models for fast and high heating modes. They have convenient control options available with different operating modes along with timer and temperature settings. You can choose from Eco Mode – Hot water up to 55˚ C using heat pump or Fast Heating Mode – Hot water up to 60˚ C using heat pump and a heating element and High Heating Mode – Hot water up to 75˚ C using heat pump and more heating elements. Of course like all advanced gadgets you enjoy a Memory Backup – that retains the default settings even after power failure.
Types of Heat Pump Water Heaters:
There are two types of heat pumps – Monobloc and split heat pump water heaters. In the Monobloc heat pump water heater, the heating system is enclosed in the same unit along with the water storage tank. Being a single unit, it is easy to install. The Jaquar Integra Monobloc heat pumps come in capacities of 200 and 300 litres.
The split heat pump water heater has the heating system enclosed in a separate unit along with separate water storage tank. In this the water circulation model is used to ensure safety. Jaquar Integra Split heat pumps come in capacities of 400 and 500 litres.
Therefore, if you have a large house, small hotel /restaurant with 4-5 bathroom, paying guest accommodation and are looking for ample, uninterrupted supply of hot water, look no further – you can safely settle for the durable and dependable Jaquar heat pumps – Monobloc or Split – depending upon your requirement of hot water.
To view Integra Heat Pump Water Heaters from Jaquar,